Accel World (アクセル・ワールド, Akuseru Wārudo) is a Japanese light novel series written by Reki Kawahara who also made Sword Art Online and illustrated by HiMA. It has been adapted into two manga series both published in ASCII Media Works' Dengeki Bunko Magazine. The series has also been adapted into a 24-episode anime series by Sunrise which began airing on April 6, 2012 and then get subbed and dubbed by Viz Media. It was also adapted into two video games for the PlayStation 3 and PlayStation Portable. And a mobile game featuring an original story written by the author has also been released on 2017.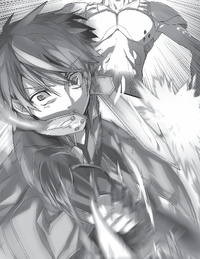 Kazuto Kirigaya, in-game name Kirito, originally a Sword Art Online character, appeared in a short story in Accel World Light Novel Volume 10 chapter 3 and Manga Chapter 18 onward to chapter 20 and had a battle with Silver Crow.
Accel World Novel Volume 10, Officially Licensed English Translated Version, will be released at June 20, 2017. English edition of Accel World VS Sword Art Online: Millennium Twilight will be released to the west in Summer, 2017. Information updated at 2017-04-17 Japanese Standard Time 02:48
« Latest Official Tweets »
If you are 13 years of age or older then click here to sign in and start editing! If you are younger than 13 years of age, you are not allowed to make an account due to laws against underage users.